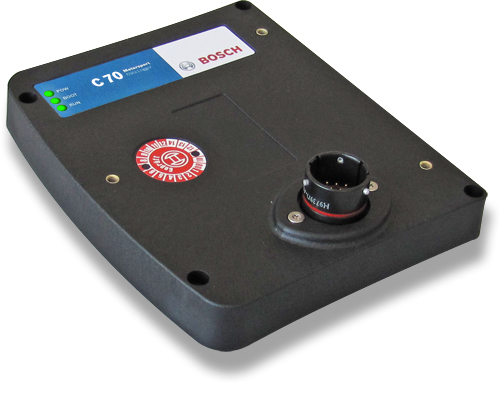 The data logger C 70 integrates a programmable data logging system for motorsport applications for a very competitive price. Additional input devices can be connected via Ethernet and CAN buses.
Data Analysis Software WinDarab is available free of charge as "WinDarab V7 free" on our website. The logger can be upgraded to a 2nd logging partition of 1 GB (e.g. for long term recording).
For quick data transfer from the car e.g. during pit stop, data copy to a USB stick is available as an option. The stick is connected to the wiring harness for the C 70.
The device comes with 4 analogue and 4 speed inputs as standard; further 12 analogue inputs are available as optional upgrade.
Features
Cutting-edge 667 MHz Dual Core Processor
Recording on USB flash drive (opt.)
Supports GPS lap trigger, pre-dated lap time etc.
High programming flexibility using mathematical functions and conditional channels
Application
Processor

667 MHz Dual Core

Converters

8 kHz AD converters with digital low pass filter

Internal power source

Li/Ion capacitor

Configurable math channels

 

User configurable CAN in/out messages

Sampling rate

Max. 1 ms

Online data compression

 

Logging rate

Max. 600 kB/s

Recording channels

1,040

Logged data download speed

Max. 1,000 kB/s

Internal storage capacity

3 GB (standard), plus 1 GB (optional)

LTE Ethernet telemetry support, GSM telemetry support

RS232 for GPS and telemetry

 

CCP-Master, data acquisition from ECU that support CAN calibration protocol (optional)
Technical Specifications
Mechanical Data
| | |
| --- | --- |
| Size | 151 x 126 x 25.5 mm |
| Weight | 450 g |
| Protection Classification | IP54 to DIN 40050, Section 9, Issue 2008 |
| Operating temperature internal | -20 to 85°C |
| Max. vibration | Vibration profile 1 (see Appendix or www.bosch-motorsport.com) |
Electrical Data
Inputs
| | |
| --- | --- |
| Analog channels | 4 standard, additional 12 optional |
| Input range | 0 to 5 V |
| Resolution | 12 bit |
| Switchable pull up resistor | For all ANA_IN |
| Wheel speed inputs | 4 Hall-effect or DF11, switchable |
Outputs
| | |
| --- | --- |
| Sensor supply 5 V ± 1 % (250 mA) | 2 |
| Sensor supply 10 V ± 1 % (250 mA) | 1 |
| Sensor supply U_Bat 250 mA | 1 |
| Sensor ground | 4 |
Optional Upgrades
| | |
| --- | --- |
| USB_DATA | USB-Port unlocked (Rugged USB flash drive Bosch File System (BFS) format included, works with Bosch File System (BFS) preformatted USB Flash drive only) |
| Adapter cable to USB-Port | included in Upgrade USB_DATA |
| Adapter for wiring harness | included in Upgrade USB_DATA |
| CCP_MASTER | CCP-Master (ASAP2 file from ECU manufacturer required |
| ETHER_TELE | LTE Ethernet Telemetry |
| FULL_LOG_2 | Enable full logging performance of 1 GB partition 2 |
| I_O EXTENS | Enable additional 12 analog input channels |
Connectors and Wires
Motorsport connector on logger

AS-216-35 PN

Mating connector
AS-616-35 SN

F 02U 000 466-01
Pin Configuration
| Pin | Name | Comment | Status |
| --- | --- | --- | --- |
| 1 | KL_31 |   | Incl. |
| 2 | KL_15 |   | Incl. |
| 3 | KL_30 |   | Incl. |
| 4 | Rev_In_3 | Hall or DF11 switchable | Incl. |
| 5 | Rev_In_1 | Hall or DF11 switchable | Incl. |
| 6 | KL_31 |   | Incl. |
| 7 | CAN_2_L | CAN speed selectable | Incl. |
| 8 | Ethernet_2_TXP |   | Incl. |
| 9 | Ethernet_2_TXN |   | Incl. |
| 10 | Sens_Power_12V | over current protected | Incl. |
| 11 | Rev_In_4 | Hall or DF11 switchable | Incl. |
| 12 | Rev_In_2 | Hall or DF11 switchable | Incl. |
| 13 | Laptrigger_In |   | Incl. |
| 14 | CAN_2_H | CAN speed selectable | Incl. |
| 15 | CAN_1_H | CAN speed selectable | Incl. |
| 16 | Ethernet_2_RXP |   | Incl. |
| 17 | Sens_Gnd_4 | fused | Incl. |
| 18 | Sens_Power 5V | over current protected | Incl. |
| 19 | ANA_IN_3 | 3.01 kOhm switchable | Incl. |
| 20 | ANA_IN_4 | 3.01 kOhm switchable | Incl. |
| 21 | Time_Sync | connection to Bosch ECU | Incl. |
| 22 | CAN_1_L | CAN speed selectable | Incl. |
| 23 | Com_screen | Ethernet and USB screen | Incl. |
| 24 | Ethernet_2_RXN |   | Incl. |
| 25 | Sens_Gnd_3 | fused | Incl. |
| 26 | Sens_Power 5V | over current protected | Incl. |
| 27 | ANA_IN_7 | 3.01 kOhm switchable | Opt. |
| 28 | ANA_IN_1 | 3.01 kOhm switchable | Incl. |
| 29 | USB_Device_DP | to Bosch USB stick | Opt. |
| 30 | RS232_TX_Telemetry |   | Incl. |
| 31 | Ethernet_1_TXP |   | Incl. |
| 32 | Sens_Gnd_2 | fused | Incl. |
| 33 | Sens_Power_10V | over current protected | Incl. |
| 34 | ANA_IN_8 | 3.01 kOhm switchable | Opt. |
| 35 | ANA_IN_10 | 3.01 kOhm switchable | Opt. |
| 36 | USB_Device_Gnd | to Bosch USB stick | Opt. |
| 37 | USB_Device_DN | to Bosch USB stick | Opt. |
| 38 | RS232_RX_Telemetry | e.g. GSM telemetry | Incl. |
| 39 | Ethernet_1_TXN |   | Incl. |
| 40 | Sens_Gnd_1 | fused | Incl. |
| 41 | ANA_IN_11 | 3.01 kOhm switchable | Opt. |
| 42 | ANA_IN_9 | 3.01 kOhm switchable | Opt. |
| 43 | RS232_TX_GPS |   | Incl. |
| 44 | ANA_IN_16 | 3.01 kOhm switchable | Opt. |
| 45 | USB_Device_Power | to Bosch USB stick | Opt. |
| 46 | Ethernet_1_RXP |   | Incl. |
| 47 | ANA_IN_12 | 3.01 kOhm switchable | Opt. |
| 48 | ANA_IN_6 | 3.01 kOhm switchable | Opt. |
| 49 | ANA_IN_2 | 3.01 kOhm switchable | Incl. |
| 50 | ANA_IN_13 | 3.01 kOhm switchable | Opt. |
| 51 | ANA_IN_15 | 3.01 kOhm switchable | Opt. |
| 52 | Ethernet_1_RXN |   | Incl. |
| 53 | ANA_IN_5 | 3.01 kOhm switchable | Opt. |
| 54 | RS232_RX_GPS | for GPS sensor input | Incl. |
| 55 | ANA_IN_14 | 3.01 kOhm switchable | Opt. |
Installation Notes
| | |
| --- | --- |
| Inspection services | Recommended after 220 h or 2 years, no components to replace |
Ordering Information
Data Logger C 70
Order number: F 02U V02 302-01
USB Kit for C 70, DDU 9, DDU 10 and VCU
Order number: F 02U V02 214-01
Accessories
Vehicle Loom Basic
Order number: F 02U V02 735-01
Bench Loom
Order number: F 02U V02 349-01
Rugged USB flash drive (included in USB Kit)
Order number: F 02U V01 342-03
Adapter cable to USB-Port (included in USB Kit)
Order number: F 02U V01 343-01
Adapter for wiring harness (included in USB Kit)
Order number: F 02U 002 996-01
Software Options
CCP_MASTER
Order number: F 02U V02 213-01
ETHER_TELE
Order number: F 02U V02 138-01
FULL_LOG_2
Order number: F 02U V02 305-01
I_O EXTENS
Order number: F 02U V02 205-01