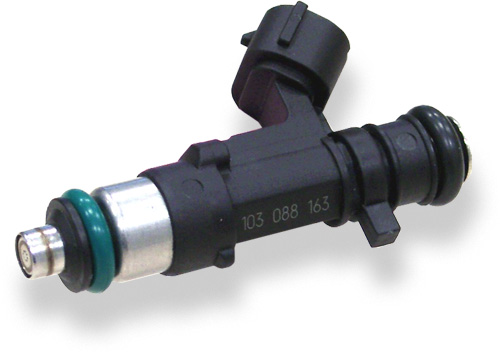 EV 14 injection valves are the latest revision of the EV 6 injection valve technology. EV 14 xT are the latest revision of the EV 12.
EV 14 is designed for a wide range of flow rates and spray patterns. Compact size and three standard versions simplify mounting in a variety of applications.
Features
Conical spray or 2-spray
Flow rate at 3 bar: up to 1,462 cm3/min
Spray angle 15 to 85°
With or without extension
Technical Specifications
Mechanical Data
System pressure

Max. 5 bar (8 bar for motorsport use)

Weight

≤ 30 g

Installation lengths

33.6, 48.65 or 60.65 mm

Fuel input

Top-feed injector

Operating temperature

-40 to 110°C

Permissible fuel temperatures

≤ 70°C

Climate-proof corresponding to saline fog test DIN 50 021

Housing design

Compact (K), Standard (S), Long (L)

Spray type

C (Conical Spray) or E (2-Spray)

Flow rate at 3 bar (n-heptane)

151 to 1,462 cm³/min

103.5 to 1,000 g/min

Spray angle α

15 to 85°

Bent angle γ

0 to 15°

Coil resistance

See variations

Fuel compatibility

E85 / M100 (After Methanol-operating, the valves must be flushed with standard gasoline-fuel.)

Use with different media is not permitted.
Electrical Data
Connectors and Wires
| | |
| --- | --- |
| Connectors | Jetronic, Sumitomo, Motorsport connectors |
Installation Notes
Please ask for more information before ordering.
Ordering Information
EV 14 CL, 103.5 g/min n-heptane
Order number: 0 280 158 110
EV 14 ES, 116 g/min n-heptane
Order number: 0 280 158 200
EV 14 CL, 150 g/min n-heptane
Order number: 0 280 158 107
EV 14 ES, 150 g/min n-heptane
Order number: 0 280 158 013
EV 14 CKxT, 237 g/min n-heptane
Order number: 0 280 158 038
EV 14 EL, 237 g/min n-heptane
Order number: 0 280 158 116
EV 14 CS, 387 g/min n-heptane
Order number: B 280 436 038-09
EV 14 CS, 387 g/min n-heptane
Order number: B 280 436 038-10
EV 14 ESxT, 429 g/min n-heptane
Order number: 0 280 158 123
EV 14 CS, 503 g/min n-heptane
Order number: B 280 436 038-08
EV 14 CS, 503 g/min n-heptane
Order number: B 280 436 038-07
EV 14 CKxT, 670 g/min n-heptane
Order number: 0 280 158 040
EV 14 CS, 670 g/min n-heptane
Order number: B 280 436 487-01
EV 14 ES, 697 g/min n-heptane
Order number: B 280 436 469-01
EV14 K, 1,000 g/min n-heptane
Order number: 0 280 158 333
Accessories
Clip for locking bush of plastic
Order number: 2 431 314 021
Clip for locking bush of steel
Order number: 2 431 314 018
Dimensions