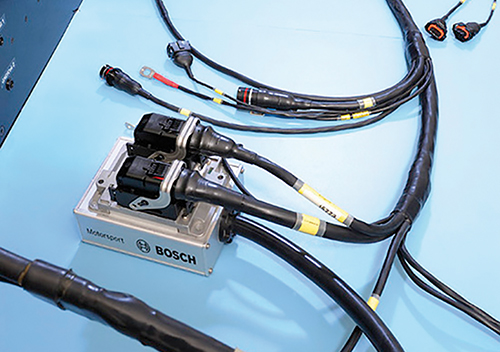 Our expertise
Bosch Motorsport specialists have decades of experience in design and manufacture of customized wiring solutions for race cars and prototypes.
Increasing complexity in race cars necessitates a high degree of understanding in the electrical architecture of the project. We provide to you the extensive system know-how and the expertise of our specialists.
As a system supplier, we are familiar with the full spectrum of electronic requirements of the components in a racecar – from high current and high voltage applications to high-speed data networks.
Our offer
Whether it is complete vehicle wiring, test equipment or a simple adapter – we design, plan, construct and test according to your individual requirements and requests.
If you want to build your wiring yourself, we also offer consulting and development support independently from our manufacturing services.
Give us a call!
Features
One-stop-shop for consulting, manufacturing, development and service
Manufacture of individual pieces and small batches
Use of the highest quality materials
Full test coverage based on the latest testing equipment for all products
The complete package, from a single pin to a complete wiring harness