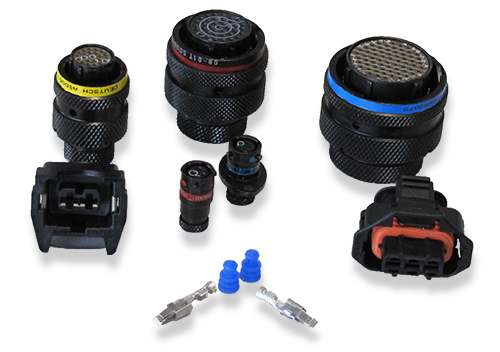 Convenient to the Wiring Harnesses, we have a wide range of connectors on offer.
From single pin and Bosch series connectors above TE-connectors to Deutsch-motorsport connectors, you can choose from a big variation.
You can get from us different Deutsch-motorsport connectors of the series AS, ASL, ASU, ASX and ASDD. According to the series, these are 3 to 128-pin connectors.
At Bosch connectors you can choose from connectors of the Jetronic or Compact series. Furthermore you receive convenient contacts and sealings to our Bosch-connectors.
If you are interested, give us a call!
Features
Bosch Jetronic and Compact connectors inclusive contacts and sealings
Autosport connectors from Deutsch, Tyco, etc.
Connectors with 3 to 128 pins
Legal Restrictions
Due to embargo restrictions, sale of this product in Russia, Belarus, Iran, Syria, and North Korea is prohibited.