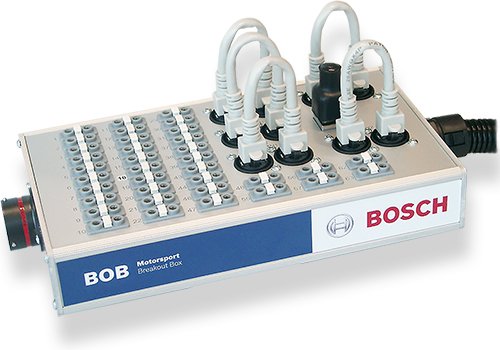 The Breakout Box BOB enables the operator to perform measurements and modify connections during operation. The jumpers allow to individually open or close each single connection without removing the jumper. Jacks provide access to all signals for measurement purposes. The box is essential for development and test environments in the lab and vehicle.
This version was especially developed for use with the LIFE connector of Engine Control Units MS 7 and Vehicle Control Unit VCU.
Features
Compact, lightweight housing in low-profile design with high-density packaging
Robust 4 mm standard jacks for measuring leads
Signal integrity of high-speed data links ensured by product-specific version
Standard configurations and fully customized versions available
No more lost jumpers due to patented 90° rotatable connectors
Ordering Information
Breakout Box BOB MS 7
Connector code: red
Order number: F02U.V02.293-01
Legal Restrictions
The sale of this product in Mexico is prohibited.
Due to embargo restrictions, sale of this product in Russia, Belarus, Iran, Syria, and North Korea is prohibited.