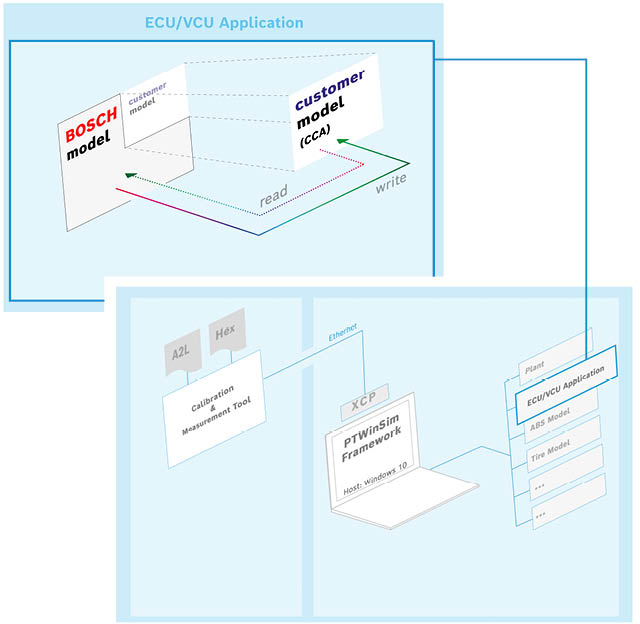 These simulation packages allow customers that use Bosch Motorsport control systems to simulate the functionality without using the hardware. These packages enable the user to run Bosch Motorsport and customer code area functions within the PTWinSim® environment.
PTWinSim® provides a framework and supporting functionality enabling several applications to execute in a coherent time frame on a variety of hosts.
Applications ranging from Engine Control Unit code to vehicle system models with complex control algorithms are simply adapted for the simulation environment. Furthermore, with WinDarab COM API, Bosch Motorsport customers can use WinDarab datasets as stimuli and logging for their simulated control system.
Device Simulation Runtime provides the runtime licenses to run a Bosch Motorsport simulation package within PTWinSim®. This requires an individual and project specific simulation software, which needs to be ordered separately.
CCA Simulation Package also provides the option for users of CCA to generate their own simulation software. Device Simulation Runtime is included.
Features
Simulate Bosch model and Customer model together in the same simulation environment
Develop Bosch Motorsport control systems (ECU/VCU) in a simulation environment with other plant models (e.g. tire, ABS)
Enables use of Bosch models (via PTWinSim) in other simulation environments like rFpro
Execute your control system faster than real-time on a Windows 10 PC
Perform real-time analysis on telemetry streams or other data sources
Technical Specifications
Recommended Operation System Windows 10, min. Update Version 1803
Required and not included Software
MathWorks Requirements

CCA S.P.*

Device S.P.*

 

MATLAB R2018b

x

 

 

Simulink

x

 

 

Real-Time Workshop

x

 

 

Real-Time Workshop Embedded Coder

x

 

 

Fixed-Point Toolbox

x

 

 

Simulink Fixed-Point

x

 

 

Stateflow

x

 

 

Stateflow Coder

x

 

 

Vehicle Network Toolbox

x

 

 

Min. PTWinSim 4.09

x

x

Compiler

 

 

 

Microsoft Visual Studio,
Version 2017

x

x

Application tool

 

 

 

RaceCon 2.7 or later

x

x
*S.P.: Simulation Package
Ordering Information
CCA Simulation Package
CCA Simulation development target to build and execute customer code.
Including 1 Device Simulation Runtime license and 1 year maintenance.
Order number: F02U.V02.893-01
Device Simulation Runtime
Device Simulation Runtime license to execute simulation on a PC and 1 year maintenance
Order number: F02U.V02.891-01
CCA Simulation Package Annual Maintenance
Order number: F02U.V02.892-01
Device Simulation Runtime Annual Maintenance
Order number: F02U.V02.890-01